Blackmagic Studio Fiber Converter
AUD$4,14000

AUD$4,140.00
Tax included.
---
---


Blackmagic Studio Fiber Converter
The Blackmagic Studio Fiber Converter is used at the other end of your broadcast camera chain back in the studio or outside broadcast truck. It converts signals from the remote camera back into standard television industry connections that can be used with your live production switchers, audio mixers and talkback interfaces. It features a high capacity power supply to drive the cable so it can provide enough power for your camera and any accessories that you might add. The studio fiber converter includes connections for tally, two dual channel intercoms for industry standard 3rd party talkback systems, and even a backup engineering talkback channel in case the fiber goes down. You get a main Ultra HD camera feed plus 3 independent HD return feeds with full remote camera control, PTZ, tracker talkback and ethernet, all through a single SMPTE fiber cable. Plus, there is a large 5 inch LCD screen right next to the SMPTE fiber connection on the front panel for monitoring signals from the remote camera. This allows for easy patching and verification of the remote camera function!
Connections
Optical Fiber Input
1x SMPTE Hybrid Fiber Optic
with Female SMPTE 304 connector.
SDI Video Input
3x 12G SDI Return feeds with Program,
Camera Control, Tally, Genlock and Intercom on Return 1.
SDI Video Output
2x 12G SDI for Ultra HD up to 60p.
Talkback Audio
SDI Channels 15 and 16 for Production,
Analogue in and out supported via 25-pin connector for Production and Engineering talkback support.
Balanced XLR Audio Outputs
4x camera analogue audio outputs.
Optical Fiber Outputs
1x Optical I/O via 10 Gb-E
(not currently active).
Computer Interface
1x USB-C.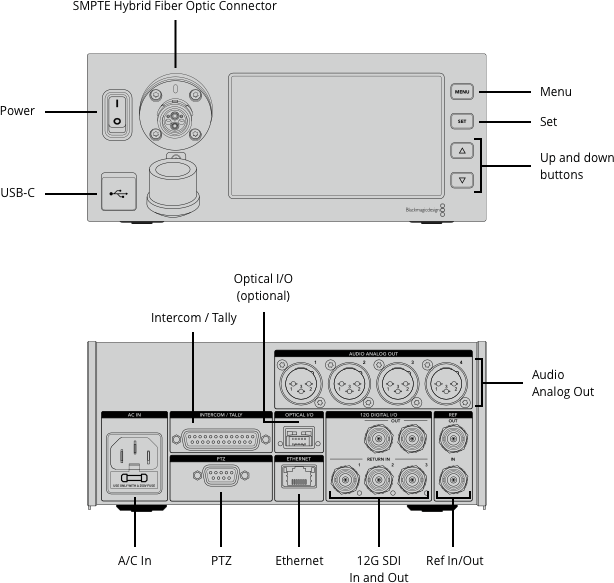 Standards
HD Video Standards
720p50, 720p59.94, 720p60
1080p23.98, 1080p24, 1080p25, 1080p29.97, 1080p30, 1080p50, 1080p59.94, 1080p60
1080PsF23.98, 1080PsF24, 1080PsF25, 1080PsF29.97, 1080PsF30
1080i50, 1080i59.94, 1080i60

Ultra HD Video Standards
2160p23.98, 2160p24, 2160p25, 2160p29.97, 2160p30, 2160p50, 2160p59.94, 2160p60

SDI Compliance
SMPTE 259M, SMPTE 292M, 296M,
372M, 424M Level B, 425M.
Audio Sampling
Television standard sample
rate of 48Khz, 24 bit A/D conversion.
Video Sampling
4:2:2
Color Precision
10-bit
Color Space
REC 709, REC 2020.
Multiple Rate Support
SDI switches between HD,
3G-SDI, 6G-SDI and 12G-SDI.
Software
Software Included
Camera Utility for firmware update.
Power Requirements
Power Supply
100 - 240V AC input.
Physical Specifications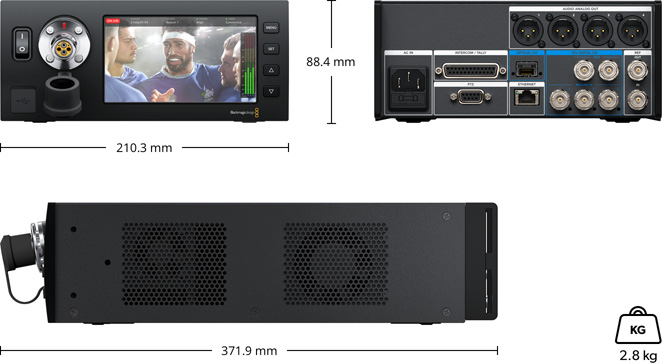 Environmental Specifications
Operating Temperature
0° to 50° C (32° to 122° F)
Storage Temperature
-20° to 45° C (-4° to 113° F)
Relative Humidity
0% to 90% non-condensing
What's Included
Blackmagic Studio Fiber Converter
SD card with software and manual
Warranty
1 Year Limited Manufacturer's Warranty.