Blackmagic Design URSA Mini Pro 12K Video Camera PL Mount (Lens not included)
AUD$8,29900

AUD$8,299.00
Tax included.
---
---

URSA Mini Pro 12K - Standard PL Mount (Lens not included)

Revolutionary 12,288 x 6,480 Super 35mm

sensor



Massive 80 megapixels per frame at 60fps in RAW - captures perfect stills and motion shots in a single camera!
SuperSpeed USB-C 3.1 Gen 2 expansion port

for recording

to incredibly fast NVMe SSD
Easy to Use Blackmagic OS
With advanced Blackmagic OS, you get an intuitive and user friendly camera operating system based on the latest technology. Blackmagic OS is a true modern operating system where all camera features run independently for smoother control, plus the camera powers on virtually instantly. URSA Mini Pro features the same controls and menus as other Blackmagic Design cameras so you can move between cameras on set easily. The interface uses simple tap and swipe gestures to adjust settings, add metadata and view recording status. You also get full control over advanced camera features such as on screen focus and exposure tools, 3D LUTs, HDR, metadata entry, timecode, Blackmagic RAW settings and more!

Revolutionary Lightweight, Portable Design
URSA Mini Pro is designed to include everything you need in a portable camera so you can take it anywhere! The evenly weighted camera body is made from lightweight, robust magnesium alloy. Buttons, switches and dials are laid out in a logical order that makes them easy to find by feel while using the viewfinder. An external backlit LCD status display lets you view critical information. Plus there's a 4" fold out touchscreen for reviewing shots and accessing the menu settings. You get connections such as 12G‑SDI in and out, USB‑C, 48 volt phantom power XLR audio, timecode and reference in. The optional Blackmagic Shoulder Mount Kit lets you go from tripod to handheld in seconds!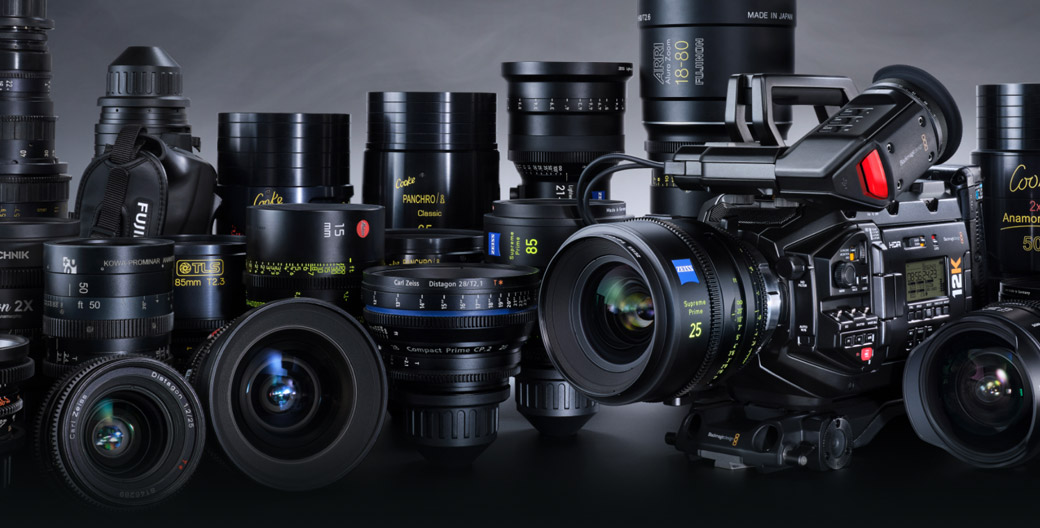 Interchangeable Lens Mounts
Different projects require different lenses which is why URSA Mini Pro features an interchangeable lens mount. You can quickly switch between PL, EF and F mount lenses on the URSA Mini Pro 12K, as well as B4 lenses on the URSA Mini Pro 4.6K G2. That means you can work with high quality large PL cinema lenses, EF or F mount photographic lenses, and even B4 broadcast lenses, making URSA Mini Pro compatible with the widest possible range of professional lenses. Additional PL, EF, F and B4 lens mounts can be purchased separately. With URSA Mini Pro, you get a single camera that works with virtually all professional lenses so you have the freedom to choose the lens you need for any kind of work!
Built in Precision ND Filters
URSA Mini Pro features high quality ND filters that let you quickly reduce the amount of light entering the camera. Designed to match the colorimetry and color science of the camera, the 2, 4 and 6 stop filters provide you with additional latitude even under harsh lighting. The IR filters have been designed to filter both optical wavelengths and IR wavelengths evenly to eliminate IR contamination of the images from which many ND filters can suffer. URSA Mini Pro ND filters are true optical filters with a precision mechanism that quickly moves them into place when the ND filter dial is turned. Filter settings can even be displayed as either an ND number, stop reduction or fraction on the LCD!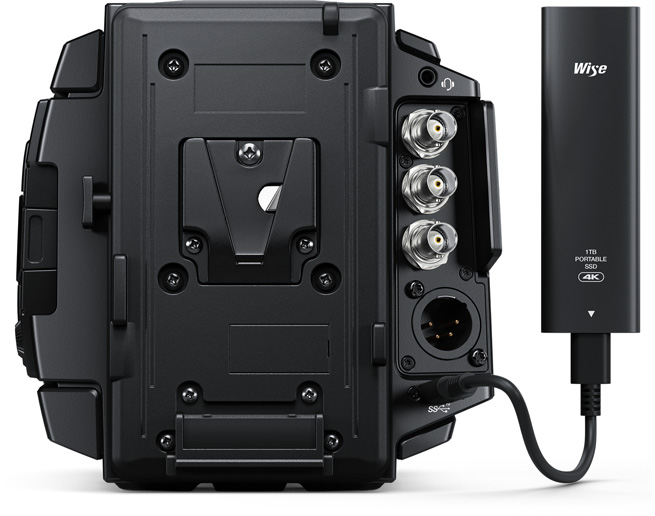 USB-C for Direct Recording to External Disks
Blackmagic URSA Mini Pro features an innovative high speed USB-C Expansion Port. The 4.6K G2 model features USB‑C 3.1 Gen 1 which operates at up to 5 Gb/s, while the new 12K model has a USB‑C 3.1 Gen 2 for a blistering 10 Gb/s. You can connect and power external flash disks and SSDs or on URSA Mini Pro 12K you can connect the new URSA Mini Recorder for recording to fast NVMe SSD drives for longer recording times. NVMe SSD drives are ideal for shooting 12K in the highest constant quality 12‑bit Blackmagic RAW in the Q0 setting or for high frame rates. When shooting is complete you can simply move the external disk to your computer and start editing from the same disk, eliminating file copying!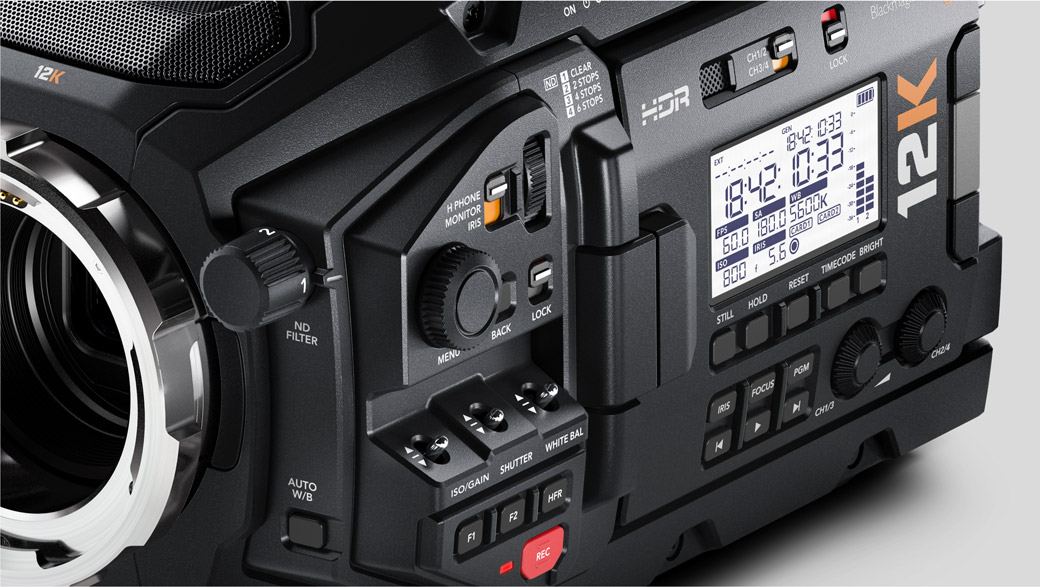 High Resolution Monitoring and Camera Control
The built in 4 inch fold out touchscreen on URSA Mini Pro is a bright, high resolution color display with a wide viewing angle that makes it perfect for monitoring and reviewing shots on set! The screen can also show you a "heads up display" overlay with critical information such as format, frame rate, iris, timecode, shutter angle, white balance, ISO and more. Plus you get a histogram, card recording status indicators and audio meters! You can show or hide the heads up display by simply swiping up or down. The fold out touchscreen also lets you use the incredible Blackmagic operating software so you get super fast access to every camera function, digital slate for metadata management and more!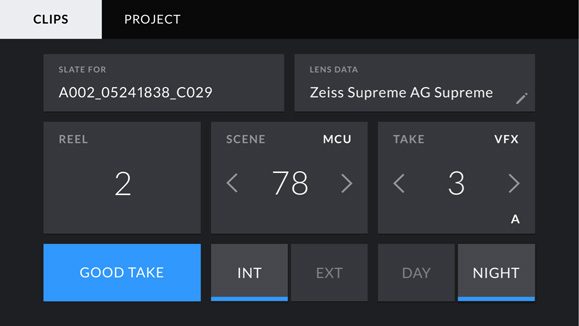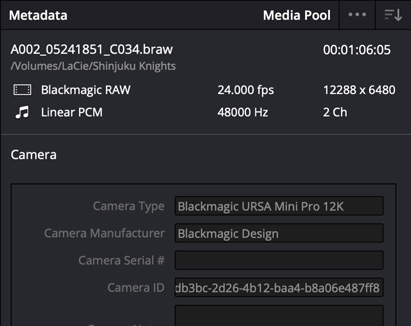 Digital Slate for Fast Metadata Entry
URSA Mini Pro features a digital slate so you can quickly add metadata to any shot! Simply swipe left or right on the built in touchscreen to bring up the digital slate. If you start and stop recording the slate can automatically increment the take numbers so you don't have to enter them manually for each shot! You can also set your reel numbers to increment automatically each time you format a card. Lens metadata is automatically populated or it can be entered manually, along with production specific information, technical information and more! All of the metadata is saved with the files for use in post production when editing and color correcting with software such as DaVinci Resolve!
Full Size, Durable Connections that Work with Standard Cables
URSA Mini Pro features multiple connections such as 12G‑SDI out, LANC, balanced XLR audio with 48 volt phantom power, timecode in, reference input and a headphone connection. There's also a 4 pin XLR DC output for powering accessories such as a viewfinder, and an HD‑SDI output for monitoring. That means you can connect an SDI display for on set monitoring of images, with or without overlays that show critical information and camera status. There is also a 12 pin Hi‑rose connector for controlling servo zoom lenses. URSA Mini Pro 4.6K G2 and URSA Mini Pro 12K both include a USB‑C expansion port for recording to external disks, which on the 12K model is conveniently located on the rear of the camera.
Wireless Bluetooth Camera Control
If you're positioning the camera on the end of a jib or gimbal, you can get full control via Bluetooth from up to 30 feet away. You can download the Blackmagic Camera Control app for your iPad or use third party apps such as Bluetooth+ or trigger on your iOS and Android devices. There's even a free developer SDK with sample code available from the Blackmagic Design developer website, so you can create your own remote camera control and digital slate solutions! Imagine building an app that can jam sync timecode and trigger all cameras to record at the same time. The possibilities are endless!